Raushetsaksjonen – Jobzone's community engagement appeal
We know that every community has its change agent. Someone who is generous with their time, and who gives to their local community without expecting anything in return. At Jobzone, we want to promote and showcase those individuals.
They exist in every single local community. They are the people who invest their time and care for the benefit of others, be it to raise funds for equipment for the local soccer club, teach kids to ski, organise charity concerts, procure food and clothing for people in need, or help refugees who are new to the community. They are giving and engaged in all ways, tireless and dedicated – and typically modest on their own behalf.
We seek out these 'local heroes' because we want to recognise and reward their achievements.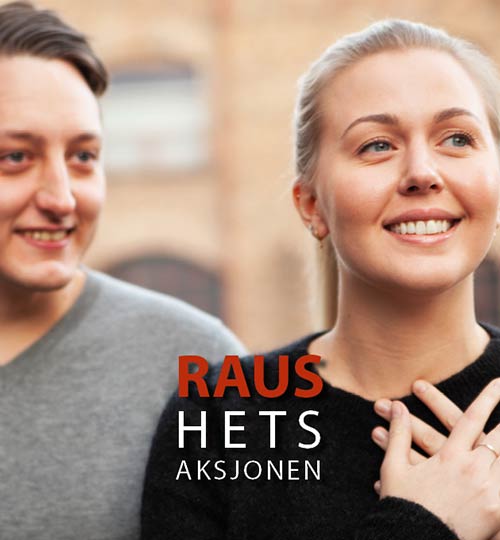 Personal achievement awards
Every year since 2004, Jobzone has conferred personal achievement awards worth NOK 10,000 on selected change agents in each of the communities in which we are present. The awards recognise extraordinary achievements in helping others at the local level, and are made under Raushetsaksjonen, Jobzone's local and national community engagement appeal.
The local Jobzone award is a personal achievement award, and is made to a named individual. In addition to the personal award, one of the local awardees is in with the chance of donating NOK 100,000 to a charity project or a benevolent organisation they are passionate about and keen to raise funds for. You help to decide the winners by voting on our website in March 2019.
If you know someone who would be a deserving winner of the Jobzone award, we would like to hear from you. Email your local Jobzone office giving the name and contact details of the person you are nominating, together with your own phone number. Write a short statement telling us why this nominee deserves to win the award. Click here to find your local Jobzone office.
More information about the Jobzone award and Jobzone's community engagement appeal
The Jobzone award is the local achievement award we make to local change agents in the community.
The Jobzone award was set up to encourage humanitarian and voluntary work at the local level.
The local award is a personal achievement award worth NOK 10,000, conferred by your local Jobzone office. The local winner's project/organisation then has the opportunity to enter the nationwide competition to win NOK 100,000.
Raushetsaksjonen is the name we give the community engagement appeal process, from when you nominate a winner, until we find the local winners and give them national support and attention. For Jobzone, the aim is to promote those community change agents, and give them something back.
Who is eligible for the Jobzone award?
Only named individuals can receive the award. The nominee might be engaged in a group/association, but the Jobzone award is a personal award. The typical awardee does good works for others – and must also engage other volunteers in the same community work.
Slik nominerer du
Nomineringsrunden til Raushetsaksjonen foregår som regel i begynnelsen av hvert år. Det er for tiden ikke mulig å nominere kandidater.