Karsten Warholm's lead sponsor
From zero to hero
This means that the association between Karsten Warholm and Jobzone has been ongoing since from when Karsten was relatively unknown in 2013 until he put Norwegian track and field athletics on the world map on winning the world championship in the 400 m hurdles in August 2017. This made the 21-year-old the first-ever Norwegian male world champion in a track event. He also gained a lot of coverage in international media for his "scream" face reaction on realising he had beaten the event favourites.
Since winning gold at the World Championships in London, Karsten has continued to demonstrate that he's an athlete in the reckoning, including in January 2018 when he broke the world record in the 300 m hurdles indoors in Finland. He holds the Norwegian record for400 m sprint and 400 m hurdles. At the 2018 Norwegian Idrettsgallaen (Sports Gala) he won the accolades "Name of the Year" and "Male Athlete of the Year", in addition to the "Athletes' Award". He was also named "Rising star of the year" by both the European Athletic Association, (EAA) and IAAF World Athletics Club in 2017.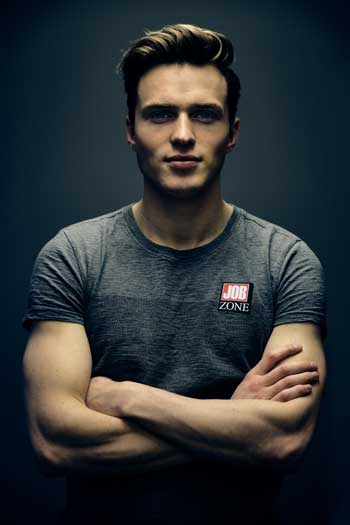 Shared values
Today, there's no doubt that the sponsorship produced results – and Karsten has ready praise for his association with Jobzone.
"I feel very much at home with them, and they seem genuinely interested in what the team and I achieve. I, for one, am keen to continue my association with Jobzone. Not least because we share the same values", says Karsten, adding: "I think everyone would agree with Jobzone's values – excellence and openness, respect and engagement, enthusiasm and dedication. The main thing is to live up to and practise these values; that's what counts. And in that respect, I find Jobzone true to their word. They are extremely giving and engaged, plus, they have a good time of it – just as I do. Besides which, we're a good match in being performance-driven".
Jobzone's director of marketing Jan-Håvard Graarud is quick to agree: "We operate in a reality where the ability to improvise counts for a lot: we are driven by our externalities and what are often pressing requirements on the client side. There are many stop-go situations in our line of business, and the challenge is to stay focused despite constant interruption. Staying focused in an extreme performance culture is something elite athletes know all about, and as a business, we can learn from them", says Jan-Håvard Graarud.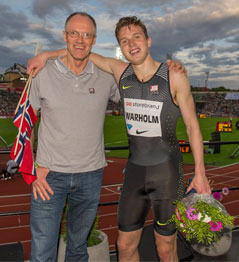 Karsten Warholm's lead sponsor
Jobzone is the personal lead sponsor of world champion in the 400 m hurdles, Karsten Warholm. Karsten's unique talent was spotted by Jobzone founder Tome Rune Graarud and his brother, marketing director Jan-Håvard, long before Karsten's "Scream" meme went viral from London around the globe. The Graarud brothers have also been keen track and field athletes, and follow all the breaking stories at both amateur and elite level. In addition, for a number of years, Jobzone has supported child and youth sports and athletics, in addition to several track and field talents at championship level.
"Jobzone was actually my first sponsor. The fact that they have backed me since I won the 2013 U-18 World Championships in the octathlon, has been crucial. Initially, I wondered what they saw in me, but they obviously had some kind of hunch about me", says Karsten, with a smile.
Jobzone came into Karsten's athletics life while he was still majoring in athletics at his local college in Ulsteinvik, Western Norway.
"What I needed backing for was investment in the huge amount of time it takes to get results within track and field events. I achieved that with Jobzone's help. Thanks to their funding, I was able to travel to training camps and concentrate on improving, without worrying about what I could afford to do, or not", says Karsten.